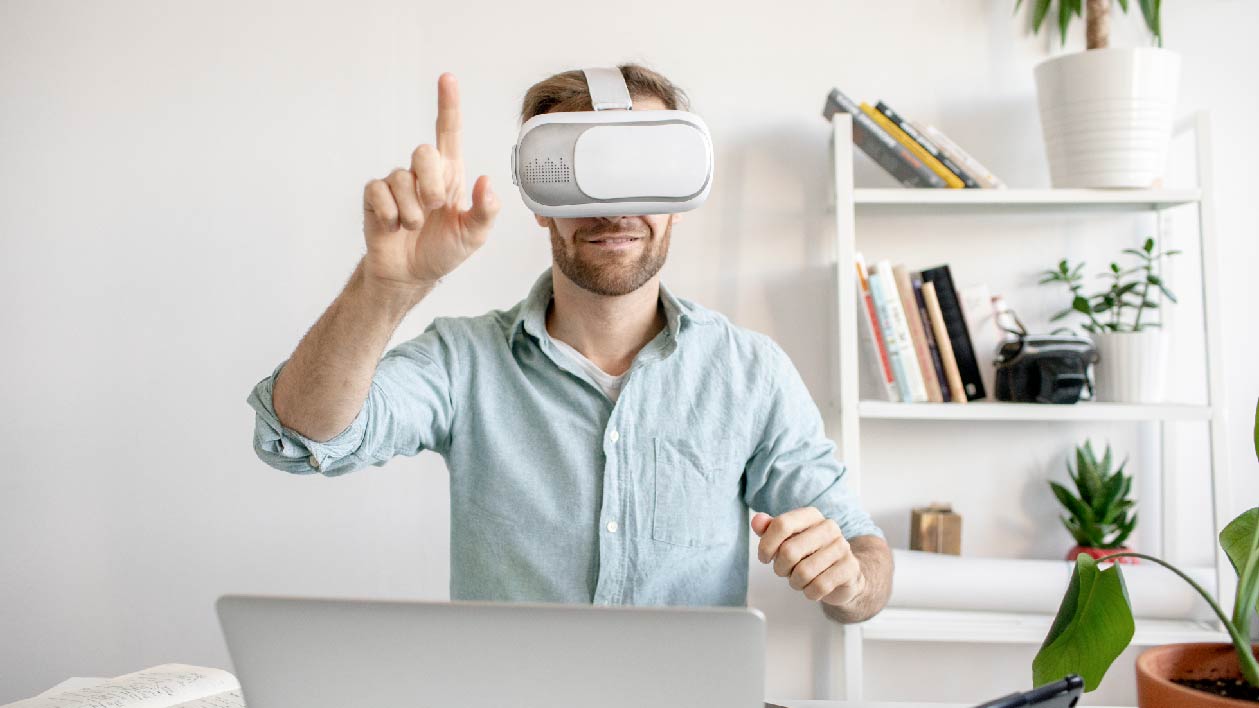 Write the book that's burning inside of you with 12-time Wall Street Journal and USA Today bestselling author and writing coach Kary Oberbrunner's Virtual Reality Course: Write Your Book.
JUNE 6, 2023
## Write the book that's burning inside of you with 12-time Wall Street Journal and USA Today bestselling author and writing coach Kary Oberbrunner's Virtual Reality Course: Write Your Book.
Kary knows first-hand what it's like to struggle with writing your first book. When he started writing in 2003, it took him years of working in isolation to finish his book. And like most authors, he learned a ton of lessons in the process. Unlike most authors, he wasn't discouraged, and continued to workshop his writing process, eventually writing WSJ, USA Today, Amazon and Indie Author Award best-selling books. Since then, he's dedicated himself to helping authors skip learning through trial-and-error and go straight to success.
This virtual reality course contains everything he's learned from over 20 years as a real world author and thousands of successful book launches:
* Your Big Why
* Identifying Your Purpose for Writing
* Determining your Audience
* The Nitty-Gritty of the Writing Process
* Saving Time with Pitch-perfect Outlines
* Writing Schedules and Writing Styles
* Gaining Reach
* And more…
Did you know that 80% of people say that they want to write a book? But less than 1% actually become authors. The most successful authors know that writing is never a "solo" process. You need one person in your corner to help make that dream a reality. Kary has helped over 250,000 authors bring their books to life. Join him in the virtual world and go from "someday" writing your book to "today"!
## Craft your Book Blueprint and discover a step-by-step process to successfully navigate the publishing industry.
There are a lot of people that teach you how to write. The truth is, you can write very well, but still sell zero copies of your book. It happens every day. Book success isn't about simply writing well. It's a stool with three legs: writing, publishing, and marketing. If one of the legs is short or missing, then the entire book is off. Few courses give you a learning experience where you learn how to write, publish, and market. This course gives you all three in a dynamic virtual environment.
The old-school way of writing a book was to spend years struggling through a manuscript, then shopping your book around and receiving hundreds of rejection letters, and then finally getting a breakthrough with a publisher, only for them to give you 5% of book sales. The new world of marketing is hybrid — combining traditional publishing, self-publishing, and digital media to get your book out to more people and to keep more of the profit. In this course, learners have virtual reality experiences to embrace the hybrid approach and have book success.
## Optimize a proven process through your virtual reality headset to market your book and turn it into 18 streams of income—even if it's fiction!
The average book sells 300 copies, so the biggest problem first-time authors have isn't completing their book — it's marketing it. And if you're honest, you didn't become an author to spend time marketing. So what about VR can help you with troubleshooting your marketing approach? This virtual reality course features Kary's innovative approach for marketing a book by turning it into 18 streams of income, from audiobooks to real time events. Get rapidly up-to-speed on book marketing with interactive marketing and streams of income visuals. Go on your own journey of learning with interactive exercises. "See" the publishing process laid out for you. Leverage the power of VR experiences to turn your message into impact.
A lot of people think that non-fiction books can set the world on fire, but fiction can't change lives. But have you ever heard of Harry Potter? That fiction book launched festivals, invented new recipes, inspired simulations and video games, influenced game development and VR development, and even started a new sport. It's not about whether your book is fiction or non-fiction, but about getting people to read your book — whether traditionally or on a mobile device. Learn the secrets of getting your book into people's hands with this course.
## Leverage insider secrets to powerful writing, elite publishing, and cutting-edge marketing
Everyone has read a powerful book that's affected their lives. But just because you've eaten a slice of apple pie doesn't mean you know how to bake an apple pie. Yet beginners take a similar approach to writing — "I've read a lot of books, so how hard could it be to write one?" In this course we demystify the writing process, so that you can write a book that you can be proud of.
When most first-time authors finish their manuscript, they think that publishing is about choosing an editor, a printer, and designing a cover. But in reality, it's all about knowing your audience. Throw on your VR headset and learn how professional publishers figure out their audience before committing to a book, and use the same process yourself for publishing success, whether you choose to self-publish or go the traditional route.
Did you know that traditional publishers keep 90-95% of the profits on each book? From one point-of-view, that's ridiculous! But publishers know that the hardest part isn't writing the book; it's getting it into people's hands. Learn what best-selling authors do to reach their audiences. Utilize cutting-edge marketing techniques for going from an unknown author to one with a worldwide audience.
## Create the book you've always wanted and experience the impact that you've always desired
Most people die with their stories still inside them. And the saddest part is, that they have all the tools to share it. You share stories every day with friends and family. You live experiences that other people would find fascinating. You pitch ideas and share other people's podcasts and approaches. But do you have a process and a plan to share your unique view of the world? This course will walk you through bringing your story to life.
How much would you love to have a book written by your grandparents? Whether it's fiction or non-fiction, we're remembered by what we leave behind. When your children, great-grandchildren, and great-great grandchildren are living their day-to-day lives, the only things they'll have are the stories you've told and the message you've shared. Your book isn't just a book. It's your legacy. Write your book and birth your legacy.
What impact do you want to have on the world? Books launch businesses, build cultures, and break old patterns. Over the course of 20 years, Kary has helped 250,000 aspiring authors on their journey to making their book a reality. And every day, he receives letters sharing the impact his books have had on their lives. The truth is, your perspective, your vision, and your positivity can make the world. One thousand years from now, how do you want to be remembered? The virtual reality applications of this course will help you make an impact beyond your imagination.